This is a temporary duplicate of memorablemilford.com while we upgrade that site to a more mobile friendly version.
A search function and contact information are planned to assist anyone with information or corrections. Until then, I will post Milford history in the Facebook pages You know you live in Milford CT if.... and Milford, Ct. Then & Now
Milford stories
The Taylor Building has ties to the same family as the Mary Taylor Church and Lauralton Hall
Taylor Made
Connecticut governor Charles Hobby Pond was governor for only a few months from 1853 to 1854. His great grandson of the same name was born October 11 1833 and built his granite mansion Island View on High Street in 1864. Facing financial hardships, his widow rented and then sold the 22 room home to New York banker Henry Augustus Taylor in 1889. They raised 13 children, 5 of which died young. He renamed the residence as Lauralton Hall after Laura, one of his deceased daughters.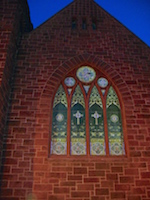 Mary Taylor window Laura is also memorialized in a stained glass window of the Mary Taylor Memorial United Methodist Church on the town green that was built by Taylor. The cornerstone for The Mary Taylor Church was laid on October 3, 1892. The church was named after Taylor's first wife and dedicated on June 25, 1893 Mrs. George Miles Gunn on March 26, 1927 provided the Mary Taylor Church with a chime organ.

The town agreed to maintain a library also built by the Taylor family for 50 years. It opened on February 2, 1895 until the present library was built in 1979 when it became offices for the Chamber Of Commerce. Henry A. Taylor's 1899 will for the $20,000,000 manor was messy due the housekeeper being the first named in it and claims from his mother-in-law that raised an 11 year son after Henry's divorce from his second wife. The Lauralton Hall property was sold to the Sisters Of Mercy on January 18, 1905 opening later in the year on September 11 as a girl's school. This was after the sisters deemed a site in Southington as too close to other religions schools and the Taylor estate had better access due to walking distance from the Milford train station.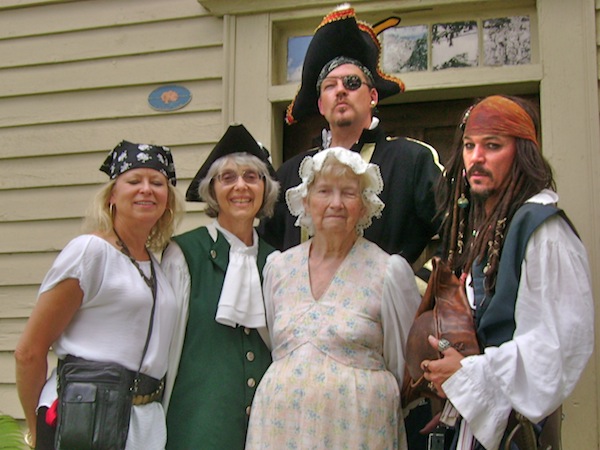 Captain Kidd visited Milford in 1699
A Pirate, Prizefighters, Priests and Presidents
Milford's Charles Island was discovered by Dutch fur trader Charles Block in 1614, better known for the island bearing his surname. Mainland access is dangerous across a sandbar connecting it to the shore except at low tide. It was Indian Sachem Ansantawae's summer home. Freeplanter George Hubbard was the original owner in 1640.
On Saint Patrick's Day in 1657, Charles Deal purchased Milford Island in a failed attempt to grow tobacco. He was one of the first Europeans to grow it in the New World but not allowed to sell to the Dutch, English or the Indians. Milford Island is later renamed Charles Island after the would-be tobacco farmer rather than its discoverer Charles Block.

Charles Island low tide sandbar Captain Kidd reportedly buried gold on the south side of Charles Island as one of his island stops along the Long Island Sound shoreline of his last voyage in June 1699 just before being arrested. Sailing from the Caribbean on May 15 1699, Kidd sent his lawyer to Boston from Oyster Bay on June 9th, was in Milford probably about the 12th to the 14th, stopped in the Thimble Islands, stayed several days digging on Gardiner's Island at the tip of Long Island before heading to Block Island and arriving in Boston on July 1. Although Kidd boasted of £100,000 in riches, the Gardiner's Island treasure recovered at the time of Kidd's capture was valued at only £14,000 plus an East Indian gold ring was found on Branford's Thimble Islands in 1924. One 1838 fanciful account tells of treasure hunters being chased off of Charles Island by a headless man and finding the hole they dug had been filled in upon their return the next day. Ichabod Crane in the famous fictional headless horseman tale was based upon Washington Irving's friend Jesse Merwin a descendent of Milford first-planter Miles Merwin. DEP regulations prohibited a 1992 dig using modern equipment to locate buried objects.

This was not the first time the privateer paid a visit to Milford. Published in 1889 is a tale of a 1699 visit, possible of the same last trip where Kidd was:

"carrying on in an uncivil and bold manner" … "when he came in ye room he put his arms about my waiste, and kissed me, wh made Jocobeth laugh and Thomas Welsh cough. Jocobeth says yt Capt. Bob is not so bad as ye folks say, and yt he was a little wild." … "I overheard Jocobeth say yt Kidd was going on a long cruise, and yt he had left some things with him. I am going to tell Aunt Prudence all about it, and find out what they are."
Your cousin,
Patience Tuttle

Connecticut resident David Bushnell made an unsuccessful attempt to sink British vessels during the Revolutionary War with his Turtle submarine made of oak. He tested it off of the coast of Milford near Charles Island on the trip from Old Saybrook on July 21 1776. This early experiment later inspired further refinements by others including Milford's Simon Lake with the first sub having an even keel for stability while diving. 3 British ships had anchored off of Charles Island on October 2 1814 but didn't attack the town during the War of 1812. A planned base to search for German submarines in Long Island was considered in 1945.

A wealthy Englishman built and landscaped the island as a summer home in 1835 before another owner opened the Island House resort on June 22 1853. Despite hosting visitors from as far away as Alabama, it was difficult transporting their guests from the mainland due to boats getting stuck. A July 1859 fire destroyed a barn and house on the island. In 1866 daily trips were added from New Haven to see the addition of an aquarium for P. T. Barnum's trained seal. The Island House owner died on November 28 1860 while walking the sandbar. The resort had closed by 1868 when a smelly manufacturing facility when into operation.

In 1868 George W. Miles manufactures menhaden, a type of fertilizer made frombunker fish, on Charles Island. A town meeting was held on May 15 1873 about complaints of the smell drifting the 3/4 of a mile to the Milford shore. Residents testified: "the stoppage of said business on Charles Island would be a serious detriment to the interest of the town". The plant shuts down in May 1886 amid financial concerns and a second lawsuit.

The smell apparently didn't deter a April 12 1870 lightweight prize fight was marred when one of the contestants failed to make it to the bout due to having to be rescued when his boat capsized. A last minute match lasting only 3 rounds to replace the no-show of the main attraction further riled the roughs arriving to watch leading to a general disturbance for the quiet town. 200 officers from New Haven were sent by train to restore order by blocking the rabble from exiting the island over the sandbar. On the shore the waterlogged would be boxer, Edward Toulhey, now a spectator to the brawl rather than a participant was not among those arrested.

Charles Island was beyond the reach of the Milford fire department when the closed hotel was destroyed on August 7, 1884. Some rooms had previously suffered fire damage from vandals holding clambakes on the island. The American Yacht Club decided against a clubhouse on Charles Island a month later in a September meeting. The Connecticut Railway & Lighting Company intended to run a trolley and build an amusement park on Charles Island in 1904.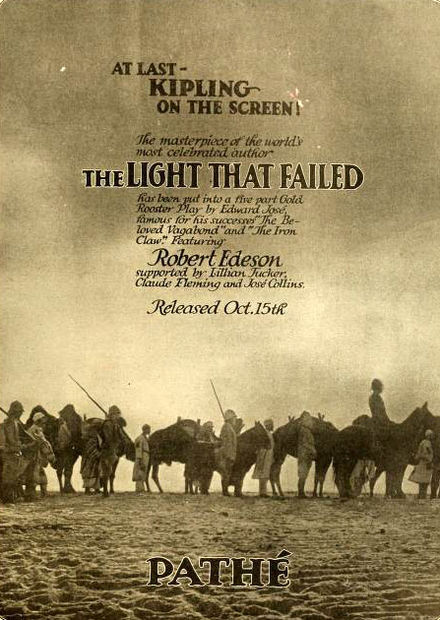 The Light that Failed 1916 poster
Public domain via Wikimedia Commons
The first of Rudyard Kipling's books to be filmed was The Light That Failed for which the author created the subtitles. No copies survive of this silent film that was released by Pathe' as a five reeler on October 15 1916. The first remake of Kipling's book was another silent film made only 5 years later being released in 1922. The desert scenes for the first version were shot at Smith Beach in Milford, Connecticut at low tide to avoid seeing Long Island sound. The cast included Robert Edeson, Lilian Tucker, Claude Fleming, Jose Collins and directed by Edward Jose'. Camels and Arabian horses were borrowed from Barnum & Bailey's circus while it was wintering in Bridgeport. December 13, 1915 was chilly and many actors in costume wore gloves requiring re-shooting the scene having to hold their breath to avoid showing it as cold in a desert. Milford's Police board passed a regulation in 1921 barring women or even men from wearing bathing suits unless they covered their knees.
A religious retreat was run by the Dominican Fathers opened on July 4 1929 closing about the time a bird sanctuary was established at Milford Point in 1935. A flagpole honored the 6 construction workers of the retreat that drowned on Easter Saturday March 30 1929. Charles Island was considered for the site of Boys Village but the hurricane of 1938 damaged the Dominican buildings 2 days after the papers reported his plan before papers were signed.
Walter Peck briefly held Charles Island in 1941 before The First National Bank & Trust held the title in 1943 before the true owner was revealed in 1949 as United Illuminating looking for a backup power plant site for the war effort. Their plans in the 1960s for a smokeless or nuclear power plant never materialized.
The shoreline in the Milford area was a summer destination in the first half of the 20th century. Summer beachfront cottages offered a respite from the summer heat for residents of New York City. Gas rationing during WWII meant that many out of state owners could not afford to keep their summer homes. Most beach cottages were not utilized in the winter months since storm waters would render any insulation material ineffective. Neighboring cities, national events and immigrants influenced property transfers. Theater owner and Italian immigrant Sylvester Poli built the Villa Rosa mansion with 10 cottages for his family overlooking the water in Woodmont. Several hotels and resorts catered to the needs of vacationers.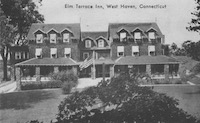 Elm Terrance Inn
postcard photo by Guy Ortoleva In 1922 West Haven became a separate town from Milford. That year an 18 hole golf course was created just over the town line from Milford for The Elm Terrance Country Club. Another Italian immigrant, Giovanni Ortoleva, made a quick business decision to purchase the property the same July 1937 afternoon that he saw it. More millionaires were made during the depression than any other time by not panicking like average people did. Elm Terrance luxuries included that all 65 rooms had their own telephone and bathroom. The Elm Terrance golf course was reduced to a 9 hole in the 1940s. Other businesses Mr. Ortoleva owned included the New Haven Bread Company that Frank Pepe of pizza fame worked at as a teenage. The bakery became the New Haven Macaroni Company in response to a pasta shortage due to the Great War (WWI) breaking out before the factory was completed. These and other immigrants became successfulful despite only speaking Italian or broken English.
"Chicken Lady" Fights City Hall and Silver Sands
Almost a half century after the 1955 damage by Hurricane Dianne to 75 homes, Milford finally saw results in building a new state park on the properties. United Illuminated abandoned putting on the nearby Charles Island a "smokeless" power plant, otherwise known as nuclear power in 1971 due to federal regulations against so close to a metropolitan area. The State of Connecticut had acquired the island from them in 1960 declaring the island a bird sanctuary in 1981. Residue from the country's first trash shredder located at the to be closed city dump within the park created an elevated scenic viewing area. Gift bags of the ground up trash were handed out at the 1972 dedication celebration. The trash grinder was nick-named Mrs. K. after former mayor Kozlowski's wife. Adjoining properties became an apartment and condo project by the Milford Redevelopment Agency. The legacy of the trash shredder is that because it had to be cleaned and maintained once a week, Milford trash pickups are still only collected on 4 days.
The proposed park area with a scenic view of Charles Island included resident Doris Gagnon's home at 9 Remington Avenue. In 1965 the state started eminent domain of the shoreline area performing a mass condemnation of 180 properties in March 1969. Doris Gagnon wanted to sell her home, which her sister held the second mortgage on, at a fair price. She never accepting the state's offer of $15,367.00 for her house after losing her last eminent domain appeal in July 1969. A typical starting price for a 1971 Milford home was $30,000. The state's money eventually was used to pay off the loans on the property.

Doris Gagnon's route

click to enlarge Multiple attempts by government officials trying to evict the last holdout in the proposed Silver Sands Park were met by the press waiting to ask questions or faced Mrs. Gagnon's rifle. Her niece stated that the guns and starter pistol had blanks. The niece refused to open the door when the combined forces of Sheriff J. Edward Slavin, his deputies and the Milford Police paid a sixth visit after waiting until Doris left for work on March 24, 1971.

The state of Connecticut's park force commission proceeded to pack some of Mrs. Gagnon's lifetime possessions and furniture into a rental truck. They quickly flattened the green house she called home that afternoon even though many nearby abandoned dwellings still stood in the old neighborhood. 11 of these houses become arson targets down the street from a former church still used for programs and performances.

Waiting a block away from Doris Gagnon's job at Lauralton Hall school, the police pulled her over for a stop sign violation as she returned to save her home. Doris made it about 1/3 of the way before the police finaly trapped the feisty little woman.
While in custody, the state put Mrs. Gagnon on tranquilizers for being distraught over losing her home and possessions. Mrs. Gagnon refused to be released on her own recognizance since she didn't have a place left to live. Doris refused the $5,000 bail until all charges were dropped 2 months later on May 24 when police testimony revealed that Mrs. Gagnon had indeed stopped at the stop sign. At the July 1971 Police Board hearing the assisting arresting officer, Thomas Flaherty, was promoted to Sargent. Doris showed up with photographic evidence that she had been harassed by the police for 20 years but not allowed to tape record the meeting. Mrs. Gagnon told them to "at least make believe you're listening or leave the room". Flaherty later became Milford's Chief of Police of 18 years.
Animal Control wanted to charge her $27 for a coop plus feed for her 77 chickens while in jail calling Mrs. Gagnon "one ungrateful person". Other harsh statements by officials were "Mrs. Doris Gagnon will be overjoyed to see children playing on the spot that once was her property." or "You've made too many headlines to get a job." Doris Gagnon response was she didn't consider herself a martyr but "a good American and a good Christian."

Doris Gagnon's house
photo courtesy of Tim Chauser
Scavengers dug through the ruins of Mrs. Gagnon's home for anything of value the state hadn't taken or destroyed. Others had sympathy of the widow standing up to powerful officials. including a woman threatened with arrest for littering if she left a "Free Mrs. Gagnon" sign in front of the police station. The local paper printed a photo of an American flag along with Gagnon's mailbox laying on the pile of rubble where she had lived.

Despite efforts by local officials, there was no urgency by the state to start construction on the park. A fast-tracked exception to a 1971 statewide moratorium on public works contracts was Governor Meskill visiting the site for a new vo-tech school in Milford weeks after the demolition of Mrs. Gagnon's residence. 1 block from the proposed park a beach house was rented by Bill Clinton. Fellow Yale Law School student Hillary Rodham often visited him there, having met the future President the same month Mrs. Gagnon was jailed. In 2000 Silver Sands State Park finally opened 45 years after the 1955 storm that devastated the area. As of 2016 the park still lacked bathroom facilities.
Mrs. Gagnon said "I'm not sorry if I have helped somebody else learn that you can fight City Hall." Doris "Chicken Lady" Gagnon parked a mobile Shasta camper where her home once stood with her dogs and chickens. She later moved to a higher spot elsewhere in the proposed park to avoid flooding on the cleared land. She is offered to be an honorary park ranger but chooses to stay until her death in 1994.
A wetlands section of the proposed park passed 1 block away from a shorefront beach house that Bill Clinton was renting. Fellow Yale Law School student Hillary Rodham often visited him there, she having met the future President the same month that Mrs. Gagnon was jailed.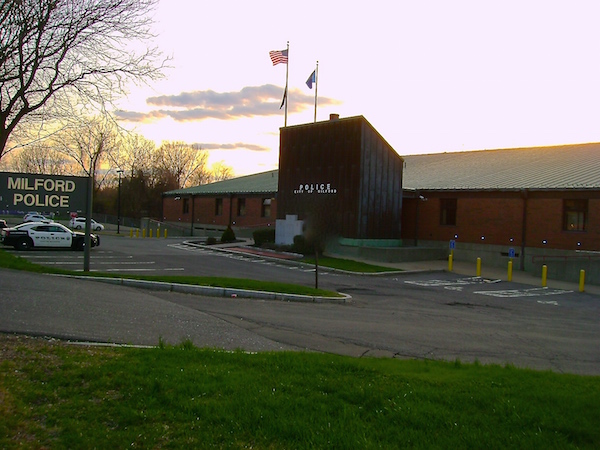 Milford Police Station
Helping in Milford
Before his involvement with Doris Gagnon, Sheriff Slavin created in 1934 the First Offender Club where kids promised to not get a criminal record. His message was broadcast nationally on radio, in Courage Comics and a bus of crime fighting and punishment equipment called Jail On Wheels. He stated:
Do you know that we in America have the largest jail and prison population in the world? That proves we don't spend money in the right place. We spend it at the top, creating large police departments and the agencies for the enforcement of law and order, while we neglected the bottom where crime starts.
Inspired by Father Flangan's Boy's Town, He created in 1942 and opened in 1944 Boy's Village on 82 acres of farmland. It was to help provide guidance to 16 homeless and handicapped boys instead of most facilities that dominated with discipline. Charles Island was considered but the hurricane of 1938 damaged the Dominican buildings 2 days after the papers reported his plan. He passed in 1937 on acquiring land in Southbury that had been rejected by the town as the site of a proposed pro Germany youth training camp withuniformed guards.
Milford's downtown police station shared space with the courthouse for 40 years. In April 1971, the Milford police union president cited low officer morale as a need for a new Police station. In response acting Police Chief McAfee said: "The right of free speech is enjoyed by policeman as well as others" But I didn't think something like that should be published.". Initial site considered included the the Fowler Building and the Platt orchard on North Street. To avoid traffic on the secondary roads they selected the main thoroughfare Route 1 next to public works was chosen. Lacking proper ventilation, shortly after the new police building was built odors from a nearby leaky gas station tank seeped throughout the basement cell block.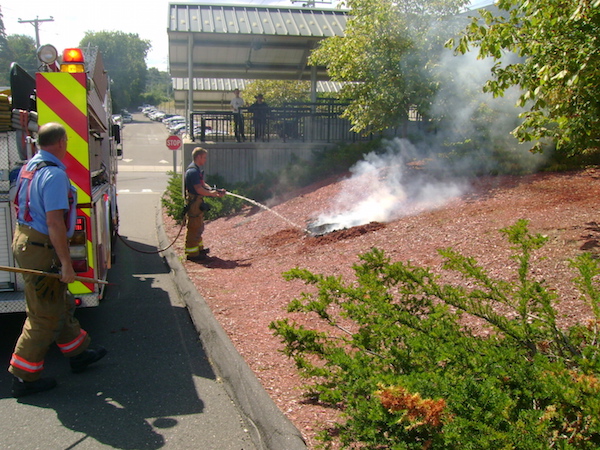 firefighters at Milford train station
A history of early Milford Firefighting
Hostile Indians set fire to the Burnt Plains area in 1646 leading the planters to worry about a shortage of timber for building. Two years later, Thomas Hine rescues a Mohawk Indian earning the tribe's respect and protection. In 1704 the General Court in New Haven pass ordinances of reward for scalps of enemy Indians. There were no Milford fatalities due to Indian attacks. In 1671, the town compensated the friendly Indians by returning the Oyster River portion of the town when misbehaving boys burned down their fort. One version of this incident derisively referred to these vandals as "our heroes". No link to the site to avoid giving them credibility. The names involved included the son of the former Indian fighter that led the way to Milford in 1639, the sons of the town deacon along with other second generation Milford settlers. They were: James Brisco, Edward Camp, George Clark Samuel and George Clark Jr., John and Jonathan Fowler, Joseph Northrop, Joseph Platt, John Smith, Jr., Thomas Tibbals, and Edward Wilkinson.
In 1808, Captain Bartemy opens fire on the Milford-Stratford drawbridge after refusing to pay a toll to sail to Derby. In the 1940's UI buys Charles Island in case they needed to build a power plant in preparation for oil supply disruptions during World War II. Plans considered in 1966 for a smokeless or nuclear plant because the island is too small for a full size power plant but were dropped.
Several notable fires coincided with expansions of Milford's Fire Department. A carriage factory on Cherry Street was destroyed by fire in the late 1830s. Milford's first fire company was founded on May 28, 1838 as the Milford Fire Company. Seventy-five cents paid by members contributed toward the purchase their first fire engine on August 28, 1838. In 1839 after 2 more fire engines from New York did not meet Milford's needs, a group of local men built one themselves. A small building in the rear of the Town Hall became Milford's first fireman meetinghouse on June 20, 1840. They became The Wepawaug Engine Company No. 1. in 1851 when Firefighters were fined 25 cents each time they reported without their equipment while the secretary of the company was paid an annual salary of seventy-five cents.
Milford town hall fire of 1915
- photo courtesy of Milford City Hall
The Wepawaug Company felt the duly elected officers of the company were better qualified than an outsider upon the appointment of a fire warden by the town officials in 1852. They accepted the fire warden 2 weeks later when he organized Bucket Brigades.
Erection of a new engine house was completed in the summer of 1855. An engine from the New Haven Fire Department on trial was purchased in 1857 despite the water pump not being very powerful. The company has been named The Arctic Engine Company No. 1, after this engine since on March 1, 1858.
The volunteer fire company threatened to quit if the town did not replace the old fire engine after a May 9, 1882 fire at Buck's Drug Store required use of a bucket brigade. Even with the new engine, some parts of Milford were beyond reach including a closed hotel destroyed on Charles Island on August 7, 1884. Horses pulled the engine in 1892 with bicycles getting the volunteers to the scene. An electric fire-alarm system begun in 1898 was underfunded. Several shoreline fires between 1896 to 1907 prompted the formation of The Woodmont Fire Company in 1897, the Walnut Beach Company in 1905, the Fort Trumbull Beach Company in 1909, the Devon Volunteer Fire Department in 1910, and the Myrtle Beach Fire Company in 1912.
One night in the winter of 1757-8, the East Town House or 2nd Town Hall caught fire and burned to the ground as British soldiers got drunk there. Fifty pounds paid by the British government helped construct a third town house. The 4th Town Hall burned down on the morning of February 19, 1915. Transients in the basement jail woken by a stray cat were able to avoid the flames and alert the town of the fire. A high wind prevented saving the structure. A fire-proof vault saved town records and the First Church's silver communion service. Later in 1915, a new central firehouse was built on Factory Lane near Broad Street. The old Town Hall included the court so cases were held in Saint Peter's parish house, while the present & current 5th Town Hall was being erected on the same site as the previous hall on June 17, 1916.
To address the growing needs of public safety, the next year, 1917, Milford consolidated the fire departments with its first building inspector. The volunteer companies turned over their apparatus to the new Board and pledged themselves to abide by the rules established. A modern concrete fire station for the Devon Hose Company was opened on December 9, 1918 featuring a truck with a chemical tank. The Myrtle Beach and Walnut Beach Fire Companies were consolidated in 1919 into a new firehouse on Naugatuck Avenue at Stowe Avenue. Ironically in February 1920 another public building burns down, the Fort Trumbull Beach Fire Company No. 2 firehouse necessitating a temporary firehouse until the Charles Street structure was completed in 1924.
The two-story, red brick building with white trim Central Fire Station opened on July 13, 1929. The facilities have equipment, office switchboard, signal room, machine shop, an insulated smoke room for gas mask drill and a rear 55-foot drill tower used by the Training School. The second floor has a spacious clubroom, locker room, dormitory with 12 beds, store room, five offices, and five single bedrooms for officers. Hoses can be dried in the basement near two bowling alleys and a banquet hall with a kitchen.
Milford's first female firefighter was hired in 2015.