This is a temporary duplicate of memorablemilford.com while we upgrade that site to a more mobile friendly version.
A search function and contact information are planned to assist anyone with information or corrections. Until then, I will post Milford history in the Facebook pages You know you live in Milford CT if.... and Milford, Ct. Then & Now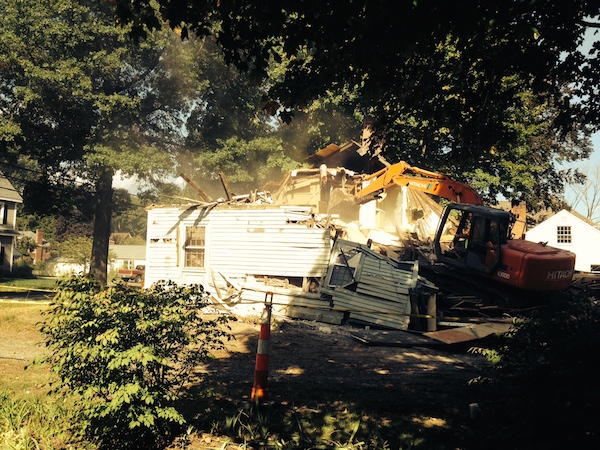 demolition of historic home
- contributed photo
Milford charm
History belongs to all of us
The great, great grandson of Milford founder Robert Treat, Thomas Treat Paine Jr. composed a patriotic song called "Adams and Liberty" using the same melody of the English drinking song that Francis Scott Key later reused for his "Defense Of Fort McHenry" poem that became "The Star Spangled Banner".
About 1/5 of the flag that inspired the Star Spangled banner is missing along with a star and that were cut out for souvenirs. Parts of Milford's history have similarly been carved up and sold to whoever is willing to buy without regard to demolishing Milford's past. In America few buildings predate WWII. Many buildings in Europe are several hundred years old. Many newer structures were built after the destruction from 2 World Wars. The classic old world look is admired and was replicated by the architects designing nearby Yale University in New Haven where they aged their buildings constructed in the 1930's by pouring acid on the stonework.
There is enough blame of why many of us failed Milford's historical community. Fix loopholes in zoning regulations and demolition orders such as no prep work until a permit is issued Make it easier for people to comply with saving a building.
The press didn't pick up and report the story. Neither historical organization has information easily available of resources to help those that may want to fix up instead of raze a building. This could include experts on how to reduce the cost of renovations or ideas to keep the basic part intact while expanding the structure to have modern conveniences.
The same agreement reached on the Sanford-Bristol house of a fair price could have been done without the lawyers which inflated the resale price. For decisions regarding demolition, board members should excuse themselves from decisions or involvement as conflicts of interest. The various organizations need to work together better instead of infighting and jockeying for political power.
Venture out to try to talk to other parties about saving Milford's history. It may be a better idea to address P&Z regulations instead of only worrying about whether a structure is in a historic district. Let's look at the bigger picture of developers having free reign. It's easy to demand that others pay for how we want them to do with a piece of property but harder to reach a compromise of saving history and having a structure usable for people today. None of Milford's historical groups are providing resources to assist owners in making informed decisions. Owners are left thinking their only feasible options are go bankrupt fixing the house up or tear it down. Some people around town resent tax dollars spent to keep a vacant house with a big sign out front instead of using it even if for a small professional office for the medical center behind it.
Saving historic homes has had mixed results. I've heard members of the public that are otherwise sympathetic to preservation object to tax dollars used for a house which sits unused.
Lawyers drove the resale price up for the Sanford-Bristol house, the former owner had been involved in Milford history and felt overwhelmed at the cost to renovate but was willing to sell at a fair price but not at a loss.
Many residents are unaware of the history that has happened in Milford. Some owners of landmarks don't want the property to be recognized for their personal privacy or possibly political reasons.
The press was more interested in a good headline and including in every article names to try to shame them which makes them less likely to want to work things out. Opinions made on Facebook were reported by some in the press without seeking other sides of a story.
A joint statement by the various historical groups that they will work together towards common goals instead of using the press to trash each other would benefit everyone.
Milford's historical community is diverse with many people belonging to several of approximately a dozen organizations. Some historic groups are educational while others are merely informal social gatherings. Most are prohibited from getting involved in politics but others serve as advocates. One woman belongs to a half dozen history oriented groups. By sharing so much in common, they may have different approaches but work together towards for the greater benefit of all.
Although I can't speak officially for any of them, people should support these many fine organizations in Milford.
Everyone should tone down the denigrating of others whether they are part of another group or talking to the owners of a piece of property. That applies privately, on the phone or using the press to emphasize differences.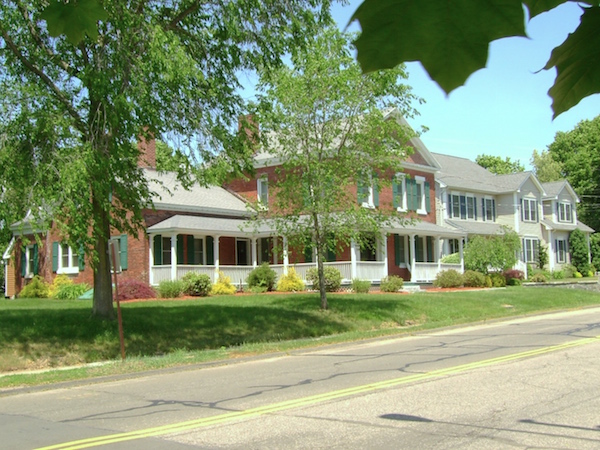 restored historic 1790's farmhouse
development alternatives
A major factor in why many developers will level a piece of property like a timber company clear-cutting a forest is the value of the land. An average acre in the state of Connecticut is worth $128,000.00, which is 85 times the average of some western states like Wyoming. Less expensive undeveloped agricultural and federally owned land puts many of the smaller eastern states as 3 of the 4 states with averages above $100,000.00. An uncrowded view of natural scenery is often a major factor in why people choose to live in suburbs like Milford.
Many architects design projects to satisfy their ego. Being a good neighbor can be creating something custom for the location that fits in with the neighborhood regarding scale, height, density and materials used. The outside of the circa 1790's farmhouse above was cleaned up while the interior was rebuilt as a modern residence. The barn next to it was falling apart and replaced with a home sharing elements and the scale of its older neighbor and the materials used blend in with the 1960's era development behind it on former farm and woodland. Small modifications of the same basic blueprints of ranches, mixed alongside colonials, raised ranches and Dutch colonials provide variety in that neighborhood.
A small house can have an addition in the back to provide more space but retain its quaint look from the front. Sometimes 2 houses can be joined together to create a larger structure. A missed chance to include something from the area's history and make a project unique to stand out from the competition was when a shopping plaza was created on the site of an old quarry would have been to name the complex as the "Milford Marble Mall" by retaining a large boulder in the parking lot near the entrance. Leaving it where it was would have taken up only a half dozen parking spaces. Based upon the parking lot configuration, it would have been located on an existing island and saved them the cost of blasting and disposing of the huge rock. Building projects meant to make a bold statement should be part of a complex that works together as a group.
Overdevelopment displaces wildlife who then start spreading out from their old habitat. Expect more interactions with animals. Depending on the area expect to run into bears, coyote attacks on pets and ticks from deer looking for new homes and food. Instead of fighting every building proposal another avenue to pursue may be addressing whether regulations may need to be adjusted. One idea that can also improve not just for historical designations is change ordinances to allow either a maximum height or minimum setback but not both. Possibly a formula to maintain a sense of scale of the view from the street. Additionally, any property that is within X number of feet from the border of 2 zones be limited on the maximum an minimums to provide a transitional buffer.
Demolition By Neglect for Milford's older buildings
Regular maintenance of older homes saves over the long term of making more costly repairs due to deferring until a later time when a structure is falling apart. Failure to maintain and secure a building from the elements or vandalism until it is too far gone to save is known as Demolition By Neglect. Tax credits are one of the resources available to assist homeowners that have been overwhelmed trying to retain the charm of a historic home but make it comfortable and usable for today's lifestyles.
Trim pieces around eaves and porch posts personalized dwellings. The craftsmanship put into historic homes gave each one their own distinctive artistic charm over the sameness of today's mass produced cookie-cutter buildings where contractors are primarily concerned with keeping costs and the bottom line down. Even with fairly recent buildings too much distinctiveness can limit commercial repurposing such as an office or retail. A possible compromise is combining the traditional with functionality.
inserting post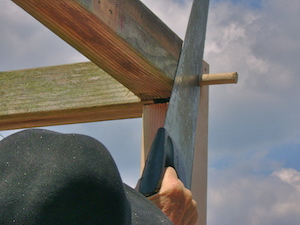 cutting post
finished post and beam
Post and beam construction had the ends of the timbers cut to fit into a corresponding hole in another beam. Pegs inserted through both pieces held them together rather than nails. The peg ends were trimmed flush after the wood had aged to allow for shrinkage. This solid construction gave older homes a ruggedness where a even a stair rail has no give or shakiness. The settlers utilized post and beam because hardware was expensive to import from Europe. After they became established, they started hand-making their own hardware from hinges down to nails. A nail-smith could forge only a few thousand square cut nails a day which were often reused in later structures by burning and dismantling what the settlers had outgrown. Much of Connecticut's soil is acidic so any un-treated wood directly in contact with it rotted in a few years. Today, recycled material such as lumber is highly desired. Even if the mortar is crumbling, old fireplace bricks add to the value of many building projects.
Removing the several layers of old paint can reveal the original color, leaving some sections of the paint layers as is show the history of the piece. The color ochre was derived from an iron ore. Prussian blue was expensive to produce and typically limited to one room. Whitewash contains lye, (also used in soap making) but once dry is safe enough that it was used in barns where the animals might lick it. Paint is more than decorative and was applied to outside surfaces in the fall to protect from winter weather.
Many old structures weren't intended to last beyond being anything more than shelter for the new settlers. Check for evidence of damage requiring pest control or shoring up of old timbers. It's incredible that they have survived hundreds of years while modern buildings often are falling apart. Make sure to check the credentials of any restorers hired by looking at examples of their work. Pay attention to the authenticity of the construction techniques used, the furnishings and whether items match. Most older homes do not have perfectly square angles. Maintain the imperfections exhibited of a house was and the events from its history.
Historical building restoration resources