Notable residents of Milford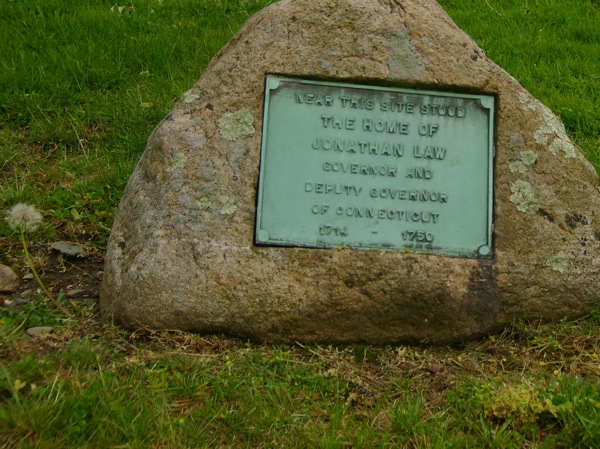 Robert Treat (1624?-1710)
Colonial era deputy & military officer, Governor of the Colony of Connecticut 1683-1698.
Treat was born in England. He settled in Milford, Connecticut at age 15 in 1639 later becoming one of the leaders of the New Haven Colony, serving in the General Court as its assembly was known.
His great-grandson, Robert Treat Paine, signed the Declaration of Independence.
Treat led a group to New Jersey in 1666. Treat wanted the new community to be named Milford, New Jersey. They agreed upon the name New Ark, which was shortened to Newark.
Treat headed the colony's militia for several years, principally against the Narragansett Indians. This included participating in King Philip's War in 1676. He served on the Governor's Council continuously from 1676 to 1708. He was first elected Governor in 1683.
Treat is credited with having a role in concealing the state's Charter in the Charter Oak.
Jonathan Law (1674–1750)
Colonial era judge, Governor of the Colony of Connecticut 1741-1750. Law was the 27th Governor of the Colony of Connecticut, serving in that office from 1741 until 1750. His term followed that of Joseph Talcott, governor from 1724 until 1741, and preceded that of Roger Wolcott, governor from 1750 until 1754.
Law was born in Milford in what was then Connecticut Colony to Jonathan and Sarah (Clark) Law. He studied law at Harvard College, graduating in 1695. He was known as a talented, amiable, even-tempered person who promoted religion, education, and mutual cooperation.
Jonathan Law High School in Milford Connecticut was named in his honor. The Jonathan Law stone in the Memorial tower bridge is the front step of his home.
Peter Pond (1739/40?–1807)
The first explorer of the Athabasca region of North America in the 1780s & founding member of the North West Company a rival with the Hudson's Bay Company. In search of new fur resources he explored west of the Great Lakes. In 1776–1778 he wintered at a fur post he created at the junction of the Sturgeon River and North Saskatchewan River near present day Prince Albert, Saskatchewan. The site is today a National Historic Site.
Pond explored waterways and drew a map showing rivers and lakes of the Hudson Bay.
Peter Pond had contributed to the mapping of Canada by drawing the general outline of the river basin. The maps that Peter Pond subsequently drew, based on his explorations and on the information provided to him by First Nations peoples, ultimately gained international recognition for Pond at the end of the 18th century. Pond wounded a man in a duel and saw the Athabasca oil sands. He founded Fort Chipewyan, Alberta.
Abigail Merwin (1759–1786)
A Colonial-era wife and mother who alerted the local militia of a raid by British forces arriving from the warship HMS Swan. In the summer of 1777, Merwin saw rowboats bearing British troops from the warship HMS Swan, which was docked in Milford Harbor. Merwin gathered her 18-month-old child into a horse-drawn wagon and sped into Milford, where she banged a wooden spoon against a metal pot to alert the townspeople of the coming invaders.
Joseph Plumb Martin (1760–1850)
A Revolutionary War Soldier who published an account of his experiences as a soldier in the Continental Army in 1830.
Martin participated in such notable engagements as the Battle of Brooklyn, the Battle of White Plains, the siege on Fort Mifflin and the Battle of Monmouth. He encamped at Valley Forge, and was present during the Siege of Yorktown, attaining the rank of Corporal. Martin's narrative of the war has been frequently cited by scholars as an excellent primary source for the American Revolution. His narrative is considered one of the major primary sources for historians, researchers and re enactors of the American Revolution.
Charles H. Pond (1781–1861)
Judge of the New Haven County Court, sheriff of New Haven, Lieutenant Governor & 37th Governor of Connecticut after the resignation of Governor Thomas Hart Seymour.
Pond graduated from Yale University in 1802. He was a judge of the New Haven County Court from 1816-87, sheriff of New Haven from 1820-34, and then again a County Court judge from 1836-37. He did not seek re-election.
Frank J. Sprague (1857–1934)
Inventor who helped develop the electric motor, electric railways, & electric elevators. One of Sprague's significant contributions to the Edison Laboratory was the introduction of mathematical methods over many costly trial-and-error experiments to save much needless tinkering. Sprague's inventions included a system on streetcars for obtaining electricity from overhead wires for the motors and controls for the trolley cars including the dead man's brake. Sprague's developments for the elevator increased the profitability of taller commercial buildings.
Simon Lake (1866–1945)
Inventor and naval engineer of submarines. Lake obtained over two hundred patents for advances in naval design and competed to build the first submarines for the United States Navy.
He built his first submarine, Argonaut Junior, in 1894. Lake built the first submarine to have diving planes mounted forward of the conning tower and a flat keel allowing it to maintain depth without changing ballast levels.
He lived in Milford, Connecticut from 1907 until his death in 1945. Lake's first submarine for the U.S. Navy, set a depth record.
Lake continued designing maritime salvage systems including obtaining permission to partially salvage the Lusitania He advised the United States Navy on submarine technology and maritime salvage during World War II.
The US Navy built a class of vessels named in his honor in service between 1964 and 1999.
Milford visitors
Several renowned people have stopped in Milford.
George Washington asked for a silver spoon for his milk and bread when he had breakfast at the Clark Tavern in November of 1789.
Vice President Aaron Burr was required to stop and stay at the same tavern in Milford due to a law prohibiting Sunday traveling.
Captain Kidd is reported to have buried his treasure on Charles Island.
Bill Clinton rented a shoreline cottage at 889 East Broadway with a few of his drinking buddies as a student at Yale in nearby New Haven.