This is a temporary duplicate of memorablemilford.com while we upgrade that site to a more mobile friendly version.
A search function and contact information are planned to assist anyone with information or corrections. Until then, I will post Milford history in the Facebook pages You know you live in Milford CT if.... and Milford, Ct. Then & Now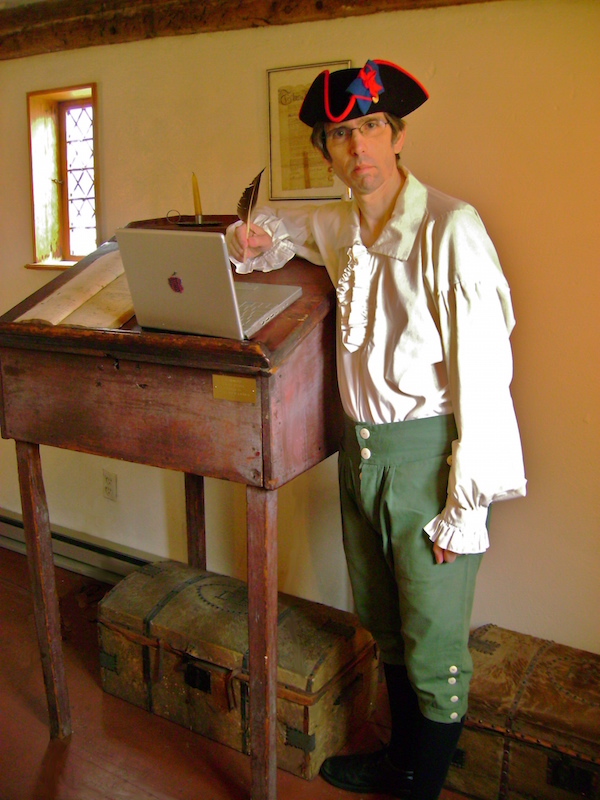 colonial writer with laptop
The Historic Milford community
In the time since Milford was founded less than 200 years after the Middle Ages, it has contributed to modern transportation with trains to submarines and communication through the telephone switchboard to computers taking time off to enjoy skiing.
The average person in the United States was born in 1984 so anything that happened before that is history to half of the population. Contrary to common beliefs, the origin of the word history is not a conjunction of his & story but is actully based upon learning or knowledge. News is the plural form of new refering to recent stories. Communication has changed drastically from when Native Americans were discovered by Europeans only 40 years after the printing press. News or announcements when the town was founded in the 1600's would have been spread by the Town Cryer on Milford's town green or in taverns. Freedom of the press has annoyed public officials ever since Benjamin Franklin and his brother were among the first in colonial America to publish weekly or monthly papers in the 1700's. Before that someone might ride on horseback from town to town or republish month old news. Many people today prefer the immediacy of getting their information online over the daily newspaper.
The good news is you can find almost anything online, the bad news is you can find almost anything online. "Fake News&quote; or &quote;Alternative Facts" are not a recent trend. The news has always been subject to spin. Whether it is elected officials, newsmakers seeking to shape how the story is told or even the press itself even if not intentional such as what stories to cover. Memories can be faulty. It is often said that history is written by the winners. But who actually comes out ahead can change with the passage of time. Unintended consequences of some action that looked good at the time may become apparent. Compeating factions sometimes try to intimidate storytellers or influence policy as in the era of yellow journalism. This site tries to track down multiple points when posible to provide historic context. First reports from the time of an event often have inaccuracies so the earliest corrected records are sought.
To counter fictional tales we present many true Milford historic stories along with timelines to help glimpse the perspective of the people from the time of the event. We correct fabrications, embellishments or fanciful tales when we become aware of better documentation. This site located rare photos including President Kennedy in front of a White House fireplace believed to be of Milford marble and a poster for a 1916 movie shot in Milford that no longer exists were located.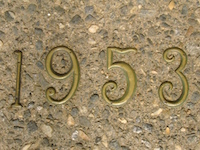 crafted sidewalk
click to see detail We used a scientific approach towards researching history of peer-reviewing between multiple sources as close to the original stories for agreements. We have verified these stories with other independent historians beyond what was available from the 2 dozen history based groups in Milford. We seek to set a high standard in our research and asking permission to use of materials such as photos we did not create. This website shares the old fashioned values of crafting detailed work instead of Good Enough For Now. As recently as the last century people proudly put their name or the date on their work. even for mundane things as a sidewalk with contrasting colored decorative stones or tinted concrete.
We hope you appreciate the countless hours spent researching and learning ways to share details on these many stories. Timelines to explain the meaning of jargon without knowing how much a reader may already understand about the people involved or the subject. We can learn more by respectfully waiting on asking questions from experts until we've learned enough to understand the answers they provide. Science is neither liberal or conservative but gets politicized. Many are quick to dismiss what they don't understand or runs counter to their beliefs. Science is testing an idea against multiple sources to see if it is true, if other researchers aren't able to get similar results then try another explanation of how it works. The peer review process by other experts in that field helps weed out confirmation bias where someone seeks to confirm a belief.
This site is a starting point for visitors to explore interesting topics. Interpretation opinions are highlighted with a slightly different look. We encourage visitors to have a lifelong curiosity that when asking questions to first ask themselves whether they know enough about a particular topic to understand the answer by an expert.
This site is independent which allows working with organizations focusued beyond a small group of people. Just like scientists and medical researchers, thi site seeks out as many different sources to find what they agree upon.
This site is for all lovers of Milford history. It is not written, but it is the heart of the Milford History community. It is the friendship among the members of the Society. Without this friendship and loyalty to each other the Society would not exist as it does today. This loyalty and friendship is at work every time the Executive Board reaches out for short term and long term volunteers. The work of the Historical Society is carried on by that friendship to each other. We pride ourselves on working towards high standards for both ourselves and those we consult to be loyal to the truth for these stories. This has at times meant going against people impressed with a title, politically connected, part of the media and sometimes all three. If you have not been to an event in a while or if you attend every event we will be happy to see you. Please join us and enjoy a beautiful spring evening with friends at the Milford Historical Society. This site is for the love of history. We look forward to seeing you. Barbara Many of our accomplishments include setting up an eBay account and marketing.