This is a temporary duplicate of memorablemilford.com while we upgrade that site to a more mobile friendly version.
A search function and contact information are planned to assist anyone with information or corrections. Until then, I will post Milford history in the Facebook pages You know you live in Milford CT if.... and Milford, Ct. Then & Now
Milford Post Road marker
Historic Milford
Milford residents are proud of the history of their city which is one of the oldest in Connecticut. The Genealogy Room at the Milford Library is where you can research the early settlers of Milford & neighboring towns.
Memorial Bridge near the library was built in 1889 for Milford's 250th anniversary to honor the first settlers & the after planters. After-planters were settlers before 1700 that were not among the 56 arrivals of 1639. The original names on the Memorial Bridge stones were paid for by descendants of the early settlers with other settlers added for later anniversaries. This 40 foot tall tower is dedicated to early surveyor and governor Robert Treat , and Paugusset sachem Ansantawae who sold the land to the settlers. At one end is the Reverend Peter Prudden's stonewho led his followers from Hertfordshire, England & Wethersfield, Connecticut to Milford. The other end honors Captain Thomas Tibbals who suggested the area around the mouth of the Wepawaug River as a good place for a settlement. William Fowler built the first water driven mill in North America near the present library. A view of the former Fowler Mill millrace can be seen from the Hotchkiss Bridge leading towards the harbor. The Bridge on the Wepawaug by Morris Abbot gives a brief history of the settlers. Before the area of the ball fields was filled in, the water was deep enough to build ocean sailing ships between 1690 & the early 1800s. Simon Lake's submarine "Explorer" is near the harbor. With over 200 patents related to submarines, this inventor lived in what is now the Smith & Sefcik Funeral Home with his workshops in back.
Boasting Connecticut's tallest flagpole, the Milford Green in the center of town is one of the longest in the state. Monuments on the green mark the numerous wars that brave men from Milford fought in. Nearby are monuments honoring the volunteer Fire Department and by City Hall are markers for WWI and September 11. Plaques around town show places of historical importance since replaced with modern buildings. They show where the Regicides Whalley & Goffe hid for several years, where George Washington ate breakfast in 1789, & where the original Post Road passed through Milford. The latter are on stone markers as directed by Postmaster General Benjamin Franklin in 1735. Several walking guides of Milford are available at downtown stores & the library that show the location of these markers.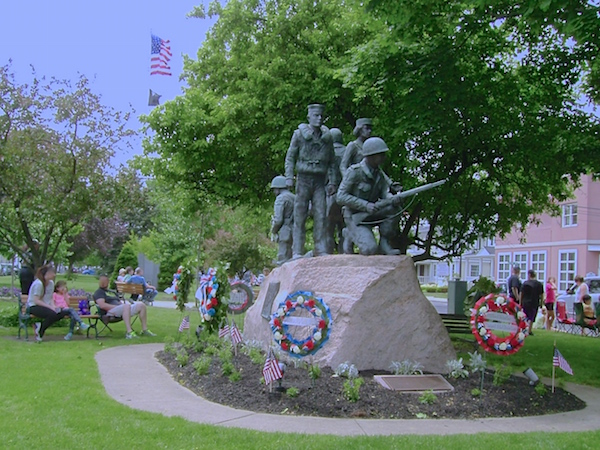 WWII monument on Milford green
Thomas Tibbals felt that the area at the mouth of a harbor 10 miles west from New Haven would make a good place to settle while he was fighting the Pequots in the Indian wars. Afterwards, he led the Reverend Peter Prudden of Wethersfield with the settlers walking from New Haven to the Milford area along Indian footpaths in 1639. On February 12, 1639 Wepawaug is purchased from the Paugussets with the land settled on August 22, 1639. Some goods were shipped to the harbor. On November 20, 1639 the town establishes the first-planters. Less than 9 months after being settled, in March 1640, William Fowler is asked to build a mill by September. After the first year the town of Wepowage renames itself for the Mill in November. After Fowler Mill is repaired from the heavy rain damage of 1645, it is used when the New Haven mill suffers fire damage in 1662. Milford's mills processed raw materials grain, gristmills to grinding malt for brewing, a sawmill, a fulling mill to clean wool and a cider-mill. The Fowler mill and homestead were razed to widen the road in 1928.
In 1640, Milford homeowners were fined for failing to repair their section of the town's tall palisade fence within 16 hours of a break. in 1853, Levi Langridge reuses New Haven's old decorative rail fence to enclose the Milford green. On October 27, 1643 Milford joined the New Haven colony.
Milford's first school was held in teacher Jasper Gunn's home in 1642 with the first schoolhouse opening on December 27, 1697 but only in use for the winter months until about 1718. Milford's first school playground was in 1857 with concerns of children running on the yard of the nearby church. On September 6, 1645, Sarah Camp was the first adult death in Milford, 4 days after having twins.
In the beginning settlers had to be jacks of all trades for building their homes or make repairs but as the community grew they needed tradesmen so everyone could better attend to their own affairs. Early on, the town regulated trade, starting with agriculture on November 27, 1645 and granting land to individuals with needed skills to produce goods locally. This was used to entice Edward Adams to learn the tanning trade and settle down on March 16, 1646. In December 1652, Henry Tomlinson was granted land for setting up a weaver's shop. The December 24, 1646 town meeting forbid residents from selling land to non-residents. Captain John Manning was charged with trading with the Dutch in April, 1654.
A warehouse and wharf are built in May 1650 at the corner of Factory Lane and Broad Street by Alexander Bryan followed by Bryan's son and Sergeant East with building more warehouses in 1655 near his father's. On May 18, 1648 Roger Ludlow with Moses Wheeler got permission to run a ferry between Milford and Cupheag now known as Stratford. In real estate matters, on June 22, 1648 the second common house was sold to James Rogers for double what the fare was to travel by horse to Stamford, (21 vs 10 shillings). It had been used as guard quarters when the first town hall was built in 1645.
Edward Worster is granted land on April 22, 1652 to grow hopp for making beer and in June 1654, a request is made for Milford's first tavern. It opens late in the year by town weaver Henry Tomlinson but is closed when it overcharges for unappetizing meals. Straw hats were manufactured in Milford in 1852. Milford Savings Bank is chartered in 1872 opening its new building in 1930. In 1825, four pieces of "verde antique" marble from a quarry at what used to be the Ryder Trailer Park were used in the steps of the United States Capitol. A. J. Donahue Corporation of Milford was one of only 2 earmuff companies in 1939 located in the United States. The grass at The 1939 New York World's Fair came from Milford's Woodruff & Sons Company.
Milford Cemetery is laid out on March 7, 1661 as an expansion of Peter Prudden's garden where the first graves were plotted. Milford formally legalized all land grants on January 3, 1686 in accordance with a state title granted for the land. Between 1655 and 1702, Milford acquired additional land eventually extending it's border to Naugatuck. This necessitates on May 22, 1713 the granting of a new state title to cover the land Milford had purchased in the preceding 30 years. Land was set aside for sheep grazing on January 11, 1675 (later in the spring).
In 1903, Woodmont became a borough within the town of Milford and Wilcox Park was deeded to the city by Clark Wilcox on August 28, 1909. Naugatuck Junction changes its name to Devon on November 1, 1913. Milford's form of government was council/manager in 1944 but switched in 1959 to Mayor/Board of Aldermen.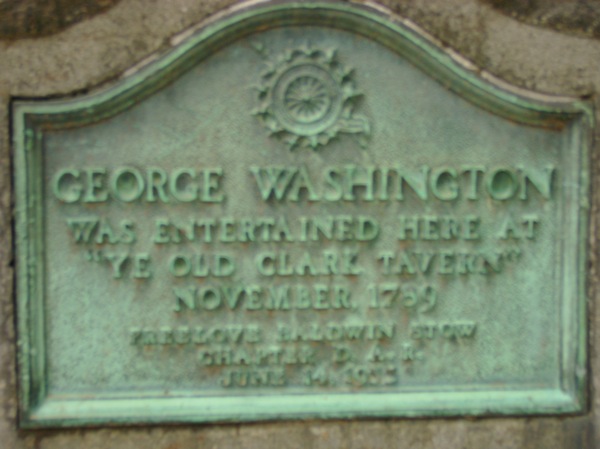 George Washington visited Milford in 1759
Regicides Whalley and Goffe hide for 3 years in Milford from August 19, 1661 until July, 1664 in the home of Micah Tomkins. Friction over this prompts England on May 11, 1665 to merge New Haven Colony including Milford with the Connecticut Colony.
In 1683, Robert Treat of Milford becomes governor of the Colony of Connecticut and on October 31, 1687 (halloween) helps spirit away the Connecticut Charter in the Charter Oak. Other Milford born governors were Jonathan Law from 1741 to his death there on November 6, 1750 and Charles Hobby Pond finishing out the term of governor in 1853. In the spring of 1666, Robert Treat travels west to found the city of Newark, originally called Milford. In October, 1703 he helps found the city of New Milford, Connecticut. Citizens from Milford helped found or settle in New Milford, Pennsylvania, Talmadge, Ohio, Greenwich, Connecticut, Durham, Connecticut, Newtown Connecticut, and Watertown, Connecticut. Treat was not the only Milford resident to venture beyond into the wilderness. During the years of the Revolutionary War, Peter Pond explored the same region and competed against the more well-known Hudson Bay Company. He died on March 6, 1807.
The Revolutionary War fired passions including when Captain Stephen Stow walks out to never returns to church after hearing a sermon to be loyal to the King. To aid the war, Milford imposed a fine for wasting gunpowder for sport shooting on August 21, 1776. Milford did not directly see many battles, but many accounts of Revolution battles came from the diary of Milford resident Joseph Plumb Martin. On July 21, 1776 Charles Island was used train a navigator for the first submarine. David Bushnell's The Turtle was on a trip heading from Old Saybrook towards New York harbor to attempt to sink a British ship on September 6, 1776. The closest to direct involvement was when Abigail Merwin banged a pot with a spoon while carrying her infant son to warn the town the British had landed. The troops were quickly scared off by settlers without enough time to take any supplies.
On January 1, 1777 Captain Stephen Stow and Captain Isaac Miles helped care for 200 smallpox infected soldiers left ashore by the British. East Rutland Road, the site of a place for sick people known as a Pest House, was once called Pox Lane. The Revolutionary War Memorial commemorating Stephen Stow and the forty-six patriots buried was erected over their resting place in 1852 in Milford Cemetery.
Fort Trumbull was built overlooking Milford Harbor in 1716. During the Revolutionary War, Nathan Hale sailed from Milford to Long Island on the spy mission that ended in his hanging by the British. After the country won its independence, the Milford Grenadiers on April 15, 1795, were formed as a militia in preparation for a war with France, all were at between 5' 10" and 6' 6" but saw little action in the War of 1812 reaching a peak of 70 men by 1816 before disbanding on August 5, 1838. Connecticut threaten to secede from the union over loss of shipping during the War of 1812. The Milford Red Cross formed on February 1, 1917 2 months before the United States entered WWI. Nike missile base BR-94 was located at Eells Hill from 1956 until 1963 during the cold war. The Army manned the site the first 2 years with the National Guard taking over afterwards. A missile would have taken over an hour to prepare to launch if the country was under an actual attack.
In June 1699, Captain Kidd visited Milford just before being arrested, legend is he buried treasure on Charles Island. The rope broke the first time he was hanged. In 1808, Captain Bartemy opens fire on the Milford-Stratford drawbridge after refusing to pay a toll to sail to Derby. In 1814 thieves rob 70 year old Captain Pond's store but are chased and their getaway vehicle (ship) are apprehended by him where he captures them and their boat. 1818 saw the last major ship, The Isabella, to be built in Milford.
On Saint Patrick's Day in 1657, Charles Deal purchased Milford Island for tobacco production. He was one of the first Europeans to grow it in the New World but not allowed to sell to the Dutch, English or the Indians. The island is later renamed it after him. The Island House hotel opens June 22, 1853 on Charles Island but fails due to boats getting stuck. In 1868 George W. Miles manufactures (menhaden) fertilizer from fish on Charles Island. The plant is shut down over complaints from the smell drifting the 3/4 of a mile to the Milford shore. The Dominicans run the Aquinas Retreat on Charles Island in the 1930's and a Bird Sanctuary is founded at Milford Point. Shortly afterwards, UI buys Charles Island in case they need to build a power plant for the war effort. Plans considered in the 1960s were of a smokeless or nuclear plant because the island is too small for a full size power plant.
Oystering begins in 1751 Milford with oystermen having oyster huts along the shoreline. Laws passed in 1763 on oystering out of season. William M. Merwin takes 3 years starting in 1857 to build the oystering industry by growing oysters in Milford's Gulf Pond. Less than 20 years later, 16 of the the 41 oystering permits issued were to women in 1878. There was a shortage from 1930 to 1932 when no oysters crop was harvested due to starfish. In 1975, the First Oyster Festival was held using a logo by Meg Casey, the oldest person to die at age 29 on May 26, 1985, from the rapid aging disease progeria. As a handicapped advocate, she won praise from the President.
The bell of First Church cracks in 1740 and in 1745 has Milford's first library consisting of sermons. 10 shillings was the deposit required to be loaned a book from the 1st church's library. The 2nd library was only open 1 day a month. Disputes over 2 people wanting to check out the same book were settled by bidding on it. The design of the First Church was used in building 3 other Connecticut churches. Benajah Case was found guilty on January 17, 1742 of preaching to Milford residents seeking to break away from First Church. It was reported in 1818 that the "liberals in Connecticut" were successful with a ruling that one does not have to belong to a church to be a citizen. Rebuilding from salvaged materials from St. George's church, the renamed St. Peter's is dedicated on July 2, 1851. The cornerstone for The Mary Taylor Church was laid on October 3, 1892. Mrs. George Miles Gunn on March 26, 1927 provided the Mary Taylor Church with a chime organ. On November 11, 1789 George Washington asks for a silver spoon for breakfast at Clark's Tavern. 9 years later, in 1798 construction of the first Washington Bridge over the Housatonic River began.
In 1671, misbehaving boys burned down the friendly Indian's fort. Most young residents of Milford were usually better behaved as in the summer of 1861 when a group of boys, "The Buckingham Rangers" get "back to nature" by camping as Indians and "suffered no ill effects from exposure". Many of the early settlers to the area were very young including Robert Treat who was only at 17 was an already a surveyor when he came to Milford. One story is of 2 teenagers that ran away from their parents home in England to New Haven and eventually settled in Milford.
In 1860 the Milford police force was expanded from 2 to 5 officers. A lightweight fight was scheduled for April 12, 1870 on Charles Island with riots erupting in Milford when one contestant didn't show due to bad weather, requiring militiamen to travel from New Haven. Most arrests prior to October 8, 1906 were for Sunday liquor laws when 10 motorists were ticketed for going faster than the 15 MPH limit. On March 27, 1937 the Milford Court and Office Building opens with the Police Headquarters moving out to their own facility on the Post Road in 1979. Daniel Wasson is Milford's 1st Police officer killed in the early morning of April 12 1987.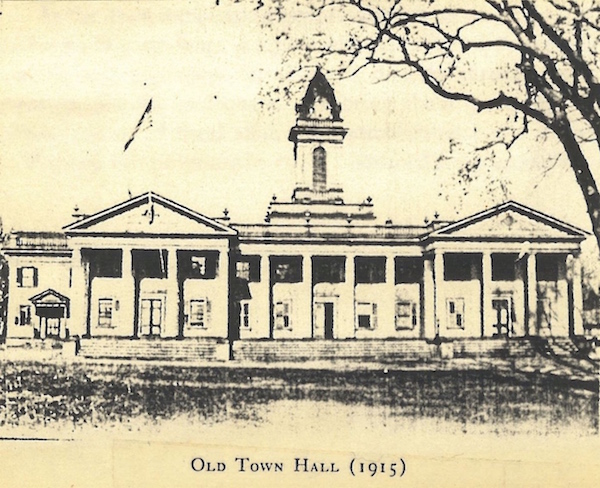 Milford Town Hall before destroyed by a fire on February 19, 1915
photo courtesy of Milford City Hall
Milford's first fire company was founded in 1838. Later on March 1, 1858 "The Wepawaug Company" renames itself after their fire engine "The Arctic". While horses pulled the fire engines in 1892 bicycles were utilized to get firefighters to the fires. The Town Hall burns down on the morning of February 19, 1915, the basement had a jail and also housed transients that alerted the town of the fire. Later that year, a new firehouse was built on Factory Lane. On June 17, 1916 the 5th & current Milford Town Hall was built on the same site as the previous hall that burnt down 16 months earlier. To address the growing needs of public safety, in 1917 Milford had its first building inspector and consolidated their fire departments. The next year Broad Street was widened along with adding new streets. In February 1920 another public building burns down, this time it was the Fort Trumbull Beach Fire Company No. 2 firehouse. The Arctic Fire Department moves into the new Central firehouse on July 13, 1929.
A Bridgeport resident could ride the trolley to New Haven with a change over in Milford in 1898. On June 1, 1898 rural mail starts with city delivery on February 1, 1909. The first New York & New Haven Railroad train passes through on December 29, 1848 but doesn't stop in Milford. The tracks go electric on January 22, 1914. The silent film "The Light That Failed", was shot in the winter of 1916 on the beach at Smith's Point with camels from Barnum's circus headquartered in Bridgeport. They had to reshoot the scene because the actors wore their coats over their costumes because of the cold. The Washington Bridge opened on November 1, 1921 after construction began in June, 1919. The West Main Street bridge over the Wepawaug is allocated $10,000 for construction on August 28, 1928 and in 1935, the Jefferson Bridge over the Wepawaug River is constructed in only 3 months. The West Shore Boulevard along the waterfront from Surf Avenue at Fort Trumbull Beach to Naugatuck Avenue breaks ground on June 27, 1938.
In 1881 Milford has 22 telephones. The first newspaper Milford Telegram was printed in 1893 later changing its name to The Milford Sentinel. Frank J. Sprague designed many mechanical improvements for streetcars and elevators. Starting in 1894, Simon Lake introduced many innovations to control modern submarines safely including diving, the escape hatch and the periscope. Many models were for non-military purposes such as salvage. Lake went bankrupt after insisted on paying back the investors with his own money when his businesses failed. Simon Lake sold submarines to Czarist Russia in 1905. He died in Milford on June 25, 1945. First electric street lights were erected in Milford on March 14, 1919.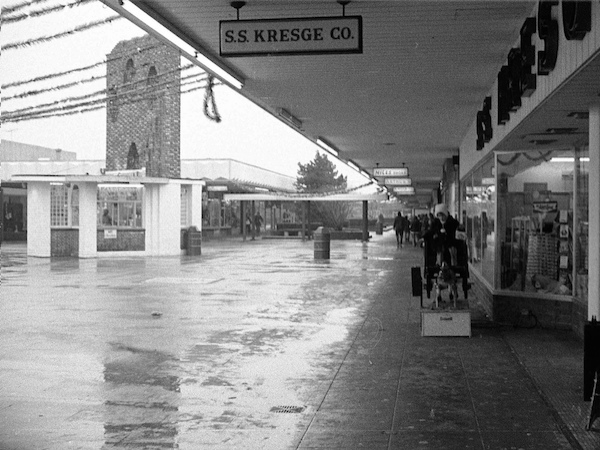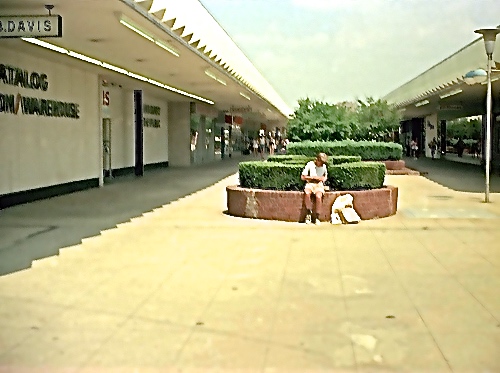 Connecticut Post Mall before remodeling
The Connecticut Post Mall opened on September 14, 1960. Originally it was open to the outdoors with circular brick planters and an underground delivery tunnel. The configuration was 2 rows of stores facing inwards with anchor stores at the ends. A central courtyard was formed by another anchor set back from the line of stores at the midway point. An overhang along the storefronts and some covered walkways offered some shielding from the rain for shoppers was adorned with a simple 3-D patterned plastic facade. A few shade trees were left in the parking lot for landscaping and also these green islands helped absorb rainwater to control flooding. The mall has been remodeled numerous times transforming the basement loading docks to a lower level of stores, adding another central anchor and a high ceiling glass skylight roof over the original level. Phelen Drug suffered fires in 1975 & 76. A fire destroyed one end of the mall in the late 1970s which has been rebuilt twice with a multiplex theater replacing the 4 screen movie theater formerly located in the parking lot that itself started as a single screen.
Downtown Milford's Capital Theatre built in the 1920's on Daniel Street held 710. John and Drew Ebersol expanded the capacity around 1941 to 799. Damaged several times by flooding of the Wepawaug, it was demolished in 1998 for an expansion of The Stonebridge Restaurant which itself had started out as a small shack selling fresh fish next to the Milford Memorial tower as Milford Seafood.
Connecticut's first drive-in theater opened in Milford on Friday May 26, 1939 with a 45 foot high by 55 foot wide screen and a lot for 500 cars. Parked cars were angled nose upwards so patrons could see over the vehicles ahead of them. Ushers used bicycles to direct traffic. in 1967, Keet's flea market held on Sunday mornings helped offset the high costs involved in running a single screen theater that was dependent on good weather. The drive-in was replaced with a multiplex in February 1988 closing in 2006 when the same company that owned the Connecticut Post Mall theater consolidated showing films at the 2 separate properties to a larger multiplex attached the the mall. The vacant theater on the drive-in property was demolished in February 2015 to make way for an enlarged Shop-Rite grocery store.
Congressional hearings in 1937 named German born Colonel Schick as an example of a perceived loophole in tax law weeks before he died. This was precipitated by the registration of United States based companies in the Bahamas immediately upon changed his citizenship from German to Canadian. 40 acres were purchased on Milford's Home Acres Avenue in 1959 to manufacture Schick razors.
former fountain on the Milford green
The Visiting Nurse Association of Milford was formed in April, 1919. The Milford Hospital Society opened a modern well-equipped hospital with 9 staff members on June 5, 1924. Milford Hospital stopped delivering babies on February 27 2015 due to declining birth rates. The original hospital building was one of Milford's earliest homes which was disassembled and moved to the grounds of the Milford Historical Society in 1977.
Being a shoreline community, Milford has literally weathered it's share of storms. When on September 21, the Great New England hurricane of 1938 hit the shoreline it tested the Wepawaug flood control walls completed 3 years earlier on October 31, 1935. A storm with 80 MPH winds in 1950 hit the coastline again. The destruction by 1955's Hurricane Diane to the Milford shore on it's path through the Naugatuck valley eventually led to the creation of Silver Sands Park. The 1978 blizzard striking from February 6 to 7 forced roads to be closed for three days under feet of snow. A factor in the amount of damage when the Wepawaug overflowed its banks during a June 5th and 6th 1982 rainstorm was the filling in 50 percent of the area's flood plains that absorb excess rain throughout the city. For example, debris from the Hurricane of 1938 was used to fill part of Milford harbor. This contributed to the fooding of the lower level of Milford's library that was built at the former harborside. Although the basement vault in City Hall had 8 feet of water, employees were able to be paid that week due to the blank checks mistakenly stored elsewhere. Meanwhile, tax bills floated through the closed downtown streets. Vital records and library books were frozen to protect them. City Hall's original boiler had to be replaced which fortunately, the aldermen had recently put off purchasing. Travel across the city was blocked by the flooded roads and collapsed bridges including the small footbridge behind City Hall. The show was still scheduled to go on under the tents of the circus across town and a stereo store held a flood sale. The coastline is battered again by Hurricane Gloria in 1985. Hurricane Irene of Sept. 2011 caused extensive damage along the shoreline. Power was out for many days.
inside of Memorial tower
In 1848 Wallace C. Wilcox pays to add a cupola and bell to Milford town Hall. The Revolutionary War Memorial commemorating Stephen Stow and the forty-six patriots buried in Milford Cemetery was erected over their resting place in 1852. The Portland brownstone monument consists of two blocks of stone thirty-five feet high. On August 31, 1888 the Civil War Memorial is unveiled and a year later during the 250th anniversary 3 day celebration the memorial bridge is opened. The Taylor building is dedicated as a library on February 2, 1895. A flagpole is erected on Liberty Rock by the Freelove Baldwin Stow D.A.R. Chapter on September 6, 1897. The Milford green fountain is unveiled on August 27, 1910. The inside of the fountain's stone bowl shows wear from years of splashing water and is currently used as a planter. The tallest flagpole in Connecticut at 114 feet was dedicated near the fountain on May 25 2014. After Milford High School closed in 1983, it was transformed into the Parsons Government Complex in 1987. Milford's City Hall gold cupola was repaired and rededicated for Milford's 375th anniversary.
A recent short term resident of Milford was Bill Clinton who rented a house while a student at Yale.
You can learn more about Milford's interesting past by reading The History of Milford, 1639-1989 which is available at the Milford Library.