This is a temporary duplicate of memorablemilford.com while we upgrade that site to a more mobile friendly version.
A search function and contact information are planned to assist anyone with information or corrections. Until then, I will post Milford history in the Facebook pages You know you live in Milford CT if.... and Milford, Ct. Then & Now
Milford's founders & early Settlers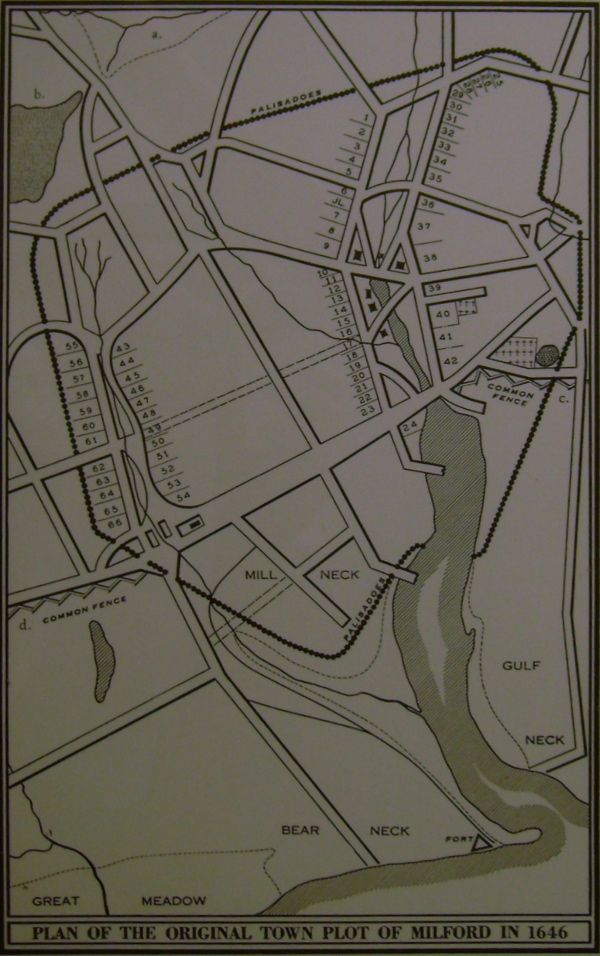 Plan of the original plot of Milford in 1639
Free-planters
Milford Connecticut was founded in 1639. The scouting of the land was on February 12, 1639 with the purchase in August followed by walking to the land from New haven the next month. Early settlers that were church members were listed at the November 20, 1639 town meeting as the free planters. Non free-planters had settled at the same time but were not officially with the church. Those that came more than 5 years after the town's founding from about 1645 until 1700 are referred to as the after-planters.
John Astwood
Thomas Baker
Joseph Baldwin
Nathaniel Baldwin
Richard Baldwin
Sarah Baldwin
Timothy Baldwin
Martha Beard
John Birdsey
Francis Bolt
Henry Botsford
Nathaniell Briscoe
Thomas Buckingham
John Burwell
Alex. Byran
Nicolas Camp
George Clarke, Senr.
George Clarke, Jr.
Samuel Coley
William East
Benjamin Fen
John Fletcher
William Fowler
Jasper Gunn
Edmond Harvy
Philip Hatley
George Hubburt
John Lane
Thomas Lawrance
Richard Miles
Richard Platt
John Peacoke
James Prudden
Mr. Peter Prudden
John Rogers
Thomas Sanford
John Sharman
Henry Stonhill
Edmond Tappe
Thomas Tibballs
Micah Tomkins
Thomas Topping
Thomas Welsh
Thomas Wheeler
Zachariah Whitman
Thomas Uffott
Non-Free-planters of 1639
John Baldwin
Andrew Benton
William Brokes
John Fowler
Henry Lyon
Joseph Northrupp
Robert Plum
William Slough
Roger Terrel
Robert Treat
After-planters and years of settlement
Edward Adams - 1646
Hants Albers - 1645
Henry Allyn - 1645
Thomas Andrew - 1673
Josua Ashburn - 1650
Josua Atwater - 1655
Thomas Bayley - 1646
Thomas Beardsley - 1647
Roger Betts - 1658
Thomas Betts - 1658
Thomas Beach - 1658
John Brown - 1648
Thomas Campfield - 1648
Gilbert Dalison - 1647
Charles Deal - 1656
Robert Denison - 1645
Robert Downs - 1660
Samuel Eell - 1664
Thomas Farman - 1658
Nathaniel Farrand - 1645
John Fisk, physician - 1695
Samuel Fitch - 1644
John Ford - 1646
Thomas Ford - 1646
Stephen Freeman - 1658
Nathaniel Gould - 1646
Joseph Guernsey - 1673
Richard Haughton -
Thomas Hayes - 1645
Thomas Hine - 1646
Richard Holbrook - 1645
Richard Hollingworth -
Jonathan Ingersoll - 1698
Walter Joye - 1650
Jesse Lambert - 1680
Jonathan Law - 1664
Simon Lubdell - 1645
Jonathan Marsh - 1646
Thomas Mecock - 1658
Miles Merwin - 1645
Miles Moore - 1646
Samuel Nettleton - 1645
Mr. Roger Newton - 1659
Francis Norton - 1660
Joseph Peck - 1645
David Phillips - 1660
James Prime - 1644
John Prindle - 1645
Roger Pritchard - 1653
Edward Riggs - 1640
Thomas Read - 1647
William Roberts - 1645
Richard Shute - 1642
Joseph Sill - 1648
Peter Simpson - 1654
John Smith - 1643
Vincent Stilson - 1650
John Stone - 1650
John Stream - 1646
Tho. Talmadge - 1656
Henry Tomlinson - 1652
Edward Turner - 1651
William Tyler - 1670
Thomas Ward - 1657
Andrew Warner - 1653
John Waters - 1658
Edward Wilkinson - 1645
John Woodruff - 1685
Edward Wooster - 1651